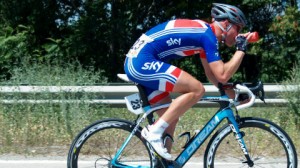 27-year-old Tom Smith is a deaf cyclist who has already taken Bronze at the Youth Commonwealth Games in Australia and become a double-medal winner at the 2013 Deaflympics in Sofia. Born and bred in Cardiff Tom now spends the racing season in Belgium Ė Cyclo talks to him about his impressive racing career, overcoming the tough challenges associated with being a deaf athlete, and how the Deaflympics still fails to gain the recognition it deserves…
Cyclo: Youíve been a cyclist all your life? Can you remember that first bike?
Tom Smith: Most of it! I started racing when I was 9. My first proper road bike was a steel Dave Marsh in purple with 5 or 6 speed cassette and down tube levers. My first track bike was a white Ribble…
Cyclo: What problems do being a deaf cyclist present?
Tom Smith: Missing certain parts of what people are saying to me; whether Iím wearing my ears (hearing aids) or not. But†I try to think that my hearing loss is part of my ability, not disability.
Cyclo: Itís often said that when one sense is impaired the others are heightened. Do you find any truth in this and, if so, does this help your cycling in any way?
Tom Smith: My perception and vision are quite good, and this gives me a wicked sixth-sense at times so yes I do believe in that.†I try and keep myself as visual and aware in my surroundings as possible so that I can develop that and my other senses. I think itís important so that I can be more aware of things that I may miss otherwise.
Cyclo: How early on did you realise that cycling was more than a hobby?
Tom Smith: Very early on. I never thought to be anything other than a cyclist. Even when I had career paths at school they never could get any interest out of me for anything else.
Cyclo: When you were younger you rode for Cycling Club Cardiff and also trained with the Maindy Flyers in Cardiff. Can you tell us about that?
Tom Smith: I started riding for Cycling Club Cardiff when I was 8. Dad took me down to a Saturday morning session that was being run down at Maindy. My first time on a fixed wheel bike was scary as I didnít know how to stop. But once I was put on the track I was instantly hooked. I think I was around 10 years old when I started doing two or three club sessions a week between the Flyers and C.C.Cardiff. It was a good group with the likes of Geraint Thomas and Luke Rowe attending too.
Cyclo: You were training and riding with both hearing and hearing-impaired cyclists?
Tom Smith: Everyone was hearing apart from me. It was only until I set up Great Britain Deaf Cycling in 2007 and started looking that others were starting to get interested. Only one other cyclist has been involved since due to funding reasons.
Cyclo: You were in an accident at 17 Ė there were lasting implications?
Tom Smith: Yes, I was hit by a car out training. The effects were difficult to understand at first as I didnít seem to have back problems, only a leg issue. Due to the time it took to realise what had happened between the accident and the surgery (four years) I had developed some strong imbalances. Iím happy to say that these have been corrected although it took a very long time. I now have some screws and cage holding my L5-S1 vertebrae together which stays in there for life.
Cyclo: With on-going back problems what adjustments did you have to make?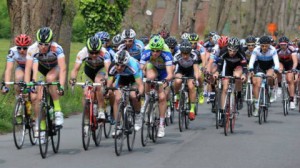 Tom Smith: I was advised by my spinal consultant to get a bike fit. I saw two different companies and they both couldnít do anything for me. So I went back to traditional methods and that has worked best so far. With the help of my team at CISM (@CISM_uk) in South Wales, we found a position that was comfortable and also good for power. Then we went along the insole path again (after many failed attempts) to try to make the most of the new position. I found out about Superfeet by chance on a Youtube clip. I got in touch and they have been great letting me experiment with different insoles. The power that I can put through the pedals now is noticeably better. Itís the only insole I have managed to stick to for a long period of time, so Iím thankful I found Superfeet.
Cyclo: You were a Bronze medallist at the Youth Commonwealth Games in Australia Ė can you tell us something about that experience?
Tom Smith: Matt Crampton just piped me to the line on that occasion. I did the scratch race the day before and was angry at myself for missing out on a medal (fourth). So the Keirin being a fighting race Ė before the regulations changed Ė I was able to make use of that adrenaline. I got seventh in the Points race too…
Cyclo: Tell us about the road to the Deaflympics.
Tom Smith: It was a difficult one, especially with the funding side of things; the government had withdrawn funding for deaf sport to allocate it to London 2012 so each Team GB athlete had to raise all costs for preparing and competing themselves with no access to Lottery funding. I had the help of some very good friends and family but the majority I had to pay from my own pocket. The selection was easy enough being the sole rider. I just had to be honest with myself and of course with UK Deaf Sport that I had what it took to get my medals. I was going to go to the 2009 Taipei Deaflympics but as I was still struggling from the back operations I had to be honest and pull out.
The training was all done by my team at CISM. We worked together on my nutrition and found pathway that suited me best based on my genetics results. On top of that there was hard training and also even harder racing in Belgium.
Cyclo: You brought home two medals, tell us about those races.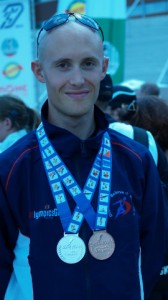 Tom Smith: I was the only representative for GB so I was marked out in the road race. After the first climb I was in the leading group. There were odd attacks going and I was making one or two moves as well. I missed the essential one just by being caught in the wrong place in the group. When I reacted I had a Russian and Italian jump straight on me, both of whom had teammates in the lead group. Needless to say I had to do the work to bring the gap back. Only the Russian was half working with me, so it was turning out to be a pointless effort. I saw the blackboard saying the gap had gone to 35 seconds so it was a case of now or never. I hit the front hard for 20 or 30 seconds and I managed to get rid of the other 2 guys. I spent the next 40km soloing my way to the lead group. I managed to get there just at the bottom of the climb. The lead group of 4 were surprised to see me and immediately put the hammer down on the climb. I lost touch half way up but managed to keep the gap to 15 seconds. Then I had to solo the last 5km by myself again. I latched on just inside the 2km mark. I knew I had nothing for the sprint so went for a long one by surprise with 5 or 600m to go. I got 50m to the finish before getting caught. I think that silver was the hardest medal I had ever won! The data from the heart rate monitor certainly showed that!
The Points race was two days after the road race and I was in no fit state after my efforts. The course for the Points race was on the road too and the circuit was a straight up and down, meaning we had to do 100 hairpin turns throughout the race. My accelerations out of the corners were poor but the top end speed I had. An American guy attacked just before halfway and no one wanted to chase. I managed to get a few sprints, and really I was fighting with a Russian to get silver. We ended up on the same points but he got a higher placing in the final sprint.
Cyclo: How was it returning to Ďnormalityí after the high of the Deaflympics?
Tom Smith: After the Sofia Deaflympics I had a week to Ďwind downí at home before heading back out to Belgium to finish off the rest of the season. I had a few interviews and awards ceremonies to go to after the racing season, but nothing I would consider out of normality. Neither I nor my other medal winning teammates (Mel Jewett in the Marathon and Lauren Peffers in Athletics) got the credit we deserved compared to the British medal winners of London 2012. Especially seeing as we all had jobs and paid our way to get to Sofia and with little reward apart from the satisfaction that we won medals from our hard work. So there wasnít really anything out of the ordinary, which was disappointing, but it did take me a while to recover from the physical and emotional effects.
Cyclo: As you say, the Deaflympics still doesnít really get the audience recognition it deserves. What are your thoughts?
Tom Smith: Deaf Sport has grown at a different rate compared to the Paralympics for example. If we use this example, the Deaflympics have been around longer than the Paralympics but because the ICSD (International Committee of Sports for the Deaf) declined the invitation to join the Paralympics when it was renamed from the Stoke Mandeville Games, we are now in the position we are in. My personal opinion is that there are faults on both sides. The Deaflympics wanted to do their own thing so that they could flourish as a deaf community. They have every right to want to do that, but it hasnít had the profound effect that the Paralympics has had, on the deaf community, deaf culture, the athletes or even the hearing world. The IOC (International Olympic Committee) and ICSD have been in discussions held over the last decade or so to invite Deaf sport into the Paralympics, but I donít think enough is being done to do that from both parties. Sport is a catalyst for change in society and culture, and itís important that something is done soon before deaf sport is ignored altogether.
Cyclo: You spend your race season in Belgium Ė how do you find attitudes to cycling differ in mainland Europe.
Tom Smith: Belgium is the heart of cycling so the lifestyle and routine is created around bikes and health, which makes living and working better for the locals here. Britain still hasnít caught on to the essence of cycling as a sport or lifestyle. Entering the races here is cheap- only 5 euros, and all the races in East Flanders are within 45 minutesí drive or ride. Then thereís the racing itself Ė which is always fast!
Cyclo: And whatís next for you?
Tom Smith: I have a few interclub and pro races coming up in in the next couple of months so Iíll be working hard to get team selection for those. Then at the end of the year Iím doing the British Track Champs and the Tour de Formosa in Taiwan. The latter is dubbed the Deaf Tour de France and I need to come up with £2000 to pay for the flights and for a pre-race training camp, which means Iím looking for businesses who want their logo on the jersey or anyone who can help out Ė obviously Iíd appreciate hearing from interested parties, you can email me here.
Find out more about Tom on Twitter, facebook and via his website tomsmiffy.wordpress.com
Read the Cyclo review of Superfeet here.