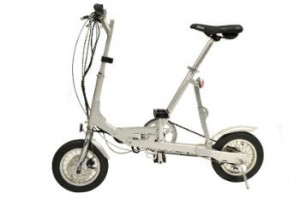 There is an indisputable love or hate factor when it comes to folding bicycles and an equally binary set when it comes to the subject of electric bikes. Where then is this likely to leave people when it comes to the two-in-one beatbike?
Divided is the obvious answer, and so it may prove to be, but stick with us on this and rest assured we were firing on all cynicism cylinders too when we first took delivery of the beatbike for an extended test period…
First the tech: beatbike has an anodised alloy frame, folds flat to around 300mm, incorporates an 80watt hub motor – powered by an internal lithium ion battery – for a maximum speed of 12mph and a maximum running time between charges of 3 hours. It ships in a carry case and, packed, looks not unlike lugging a set of golf clubs around.
Unfolding the beatbike takes a little practise – a good few minutes and some colourful language should do it on first attempt, but with a little practice it's actually a doddle. The pedals flip up, then handlebars clip into place and are secured with a lever pad, the front upright swings into place by simultaneously pulling up a lever (this is the tricky rubbing head/patting belly trick bit at first) and the rear upright lifts into position. The only non-integrated part is the separate seat-post and saddle, which slot in and secure with a swing-fastener. Re-folding the beatbike is, obviously, just a case of repeating the above in reverse order – there's a knack to the whole process, but it's a perfectly simple one to get the hang of.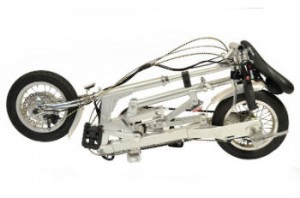 There's something both urban and a little utilitarian about the aesthetics of the beatbike, it does lack the graceful lines that have made Bromptons such a design classic, but in a slightly industrial and brutalist way it's really rather lovely. There are spots of tape, where a neat anodised clip would have added appeal, but most of the angularity is a functional aspect of having the majority of the tech contained within the frame. Its looks, we have to admit, grew on us considerably over time.
We've been taking the beatbike out on test for over two months to get a full flavour of what it's all about and repeatedly people have flagged us down to demand to know more and, invariably, ask to have a go. Not one person got off the beatbike without an enormous smile on their face and this, perhaps, is the secret to the bikes potential success. Cycling should, after all, be fun.
To get your motor running, to channel Steppenwolf, it's a simple matter of switching on via the controls mounted on the left side of the handlebars and selecting from the three speeds – the motor runs as long as you keep pedalling (without effort) and cuts out either as soon as you stop or when the breaks are applied (front disc, rear drum.) The breaks are sharply responsive, without being dangerously over-eager and the only things that takes any real practice is getting used to the more upright position on the bike and understanding the turning circle.
Aside from when power-assisted there are no gears on the beatbike so pedalling uphill on a 14kg frame tests the legs, but then that's what the motor's really for…
It's important to put this bike in context: As a 'final-mile' commute bike, it makes enormous sense (the carry bag converts into a rucksack, a really nice touch), as an option to take on a canal boat or caravan holiday, ditto and for getting out and just having untold fun in a park it's hard to beat. There are some limiting factors in terms of the distance/time between charges but the beatbike compares well here with other makes that weigh considerably more.
Are we going to convert any 'real' cyclists here? Maybe not, but they're the ones missing out on the fun, which beatbike delivers in spades.
The beatbike is currently only available in anodised silver, but a larger range of colours are promised – it retails at £499.99, just about on the money for an electric folder and less than half of what you might expect to pay for something like the Raleigh Velo XC.
Cyclo is offering its readers a £50 discount on the beatbike; just use code 'cyclo50' at the checkout at beatbikes.com