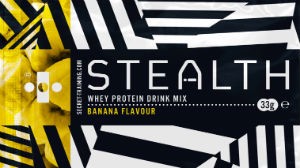 A new sports nutrition range, STEALTH, has been launched by former European Champion Track Cyclist Tim Lawson. With over twenty years experience of working with athletes from complete beginners to Olympic medallists and Pro Tour winners, Lawson looks well placed to be heading up the range that should appeal to athletes across the board from runners to triathletes and cyclists.
The STEALTH range consists of advanced isotonic gels, super hydration energy drinks, caffeine and betaine gels, real fruit energy gels, protein gels and recovery powders, with a whole host of other products also in the pipeline.
Every ingredient, say the makers, has been carefully thought out, tried and tested – from the multiple transportable carbohydrates and avoidance of artificial sweeteners in the isotonic range, to the easy digestibility of the caffeine and betaine gel. And much of the development process has also been carried out with one of the best cycling teams in the world, Tinkoff Saxo, whose feedback has been instrumental in enabling the team to get the products to where they are today.
Commenting on the STEALTH range Lawson says: 'in a sports nutrition industry jam-packed full of brands promising the very best in taste and performance, we are bringing something innovative and new to the mix… made for athletes, by athletes, we have developed a product range that both tastes good and works with your body, when you need it most.'
The new STEALTH nutrition range is available to purchase on the Secret Training website as well as selected retailers. Follow the team on Facebook and Twitter to be the first to hear about all the latest news and promotions. Full review on Cyclo coming soon…